2016 Swim Season
Michaela DeJong, Madeline Tweden, and Christian Orred all advanced to the TAPPS state meet in San Antonio which was held on February 12.
Michaela DeJong brought home the gold with her 100 free performance, and placed 2nd in the 100 back. Madeline Tweden placed 3rd in the 200 free and 4th in the 500 free. Christian Orred placed 8th in the 100 fly and 11th in the 100 back. We are so proud of our Crusader swimmers and their outstanding season!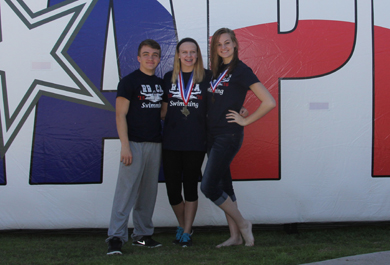 2015 Swim Season
The Crusader Swim team competed at the TAPPS Regional meet in San Antonio on January 28, 2015. Michaela DeJong took 1st place in both the 100 Freestyle and the 100 Backstroke. Madeline Tweden took 1st place in both the 200 and 500 Freestyle. With these top finishes the RRCA team finished 5th place overall in TAPPS Division 3. Both competitors will advance to the State meet on February 13, 2015 at Josh Davis Natatorium in San Antonio. Congratulations ladies and we wish you well as you prepare for the State meet.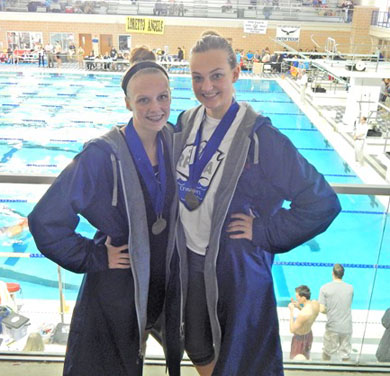 On January 9, Michaela DeJong and Madeline Tweden swam in the Tex Robertson swim meet in Burnet, Texas. Michaela placed 2nd in both the 100 free and the 100 backstroke. Madeline placed 3rd in the 200 free and 6th in the 100 free. A great start to the season for these two young ladies… way to go!
2014-15 Season
The Crusader Swim team hit the pool for their second straight season, with TAPPS state championship results both in 2012-13 and 2013-14. Swimmers Madeline Tweden, Cayden Orred, and Christian Orred worked all season to improve their times and were great representatives for Crusader Athletics both in and out of the pool.
February, 2014 News: Congratulations to our TAPPS 3A State swimmers who competed in San Antonio and had an outstanding day in the pool.
Womens 200 Free
Madeline Tweden 1st place and TWO-TIME STATE CHAMPION, 2:03:75
Mens 100 Butterfly
Christian Orred 12th place, 1:06:34
Mens 100 Free
Cayden Orred, 4th place, 55:17
Womens 500 Free
Madeline Tweden, 1st place and STATE CHAMPION, 5:34:75
Mens 100 Backstroke
Cayden Orred, 4th place, 1:06:10
Christian Orred, 7th place, 1:10:24